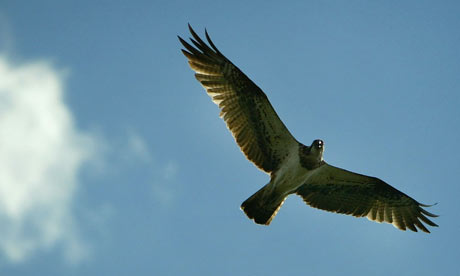 A male osprey that has been missing from his nesting site for a week may have been shot, conservationists say.
A male osprey has been missing from his English nesting site for a week and conservationists fear he has been shot.
Last year, two male ospreys disappeared in mysterious circumstances close to the reservoir in Rutland and now a third male, known only as 08(97), has also vanished, the Wildlife Trust said.
The missing bird was the first to return from the African wintering grounds to Rutland after being released there as part of a project by Anglian Water and the Leicestershire and Rutland Wildlife Trust to re-establish a breeding population of ospreys in England.
He first returned in 1999, and raised chicks at a nest on the reservoir in 2007 before moving to a nest site on private land in 2009.
His disappearance is surprising, as his mate is incubating three eggs on their nest, and he would not be expected to be away from her for long.
The male osprey would be doing about a quarter of the incubating of the eggs, and providing fish for his mate, who is now receiving fish put out for her by the wildlife team, a situation they described as "far from ideal".
Project officer Tim Mackrill said he feared the bird had been shot, or could have become tangled in nets while fishing in more sheltered lakes and ponds when catching fish was difficult at Rutland Water.
It is illegal to intentionally harm or kill ospreys, which are protected.
Leicestershire and Rutland Police said they were taking the matter extremely seriously, and called on anyone with information to come forward.
If the bird has died after becoming tangled in netting - which Mr Mackrill said would be a "tragic accident" - the project team still want to know what has happened to him, and they urged people with ponds to check the margins for the osprey.
Mackrill said: "We have not seen 08 since Wednesday 11 May. His mate is currently incubating a clutch of three eggs and so it is extremely rare for him to be away from the nest for more than a few hours.
"For us not to have seen him since 11 May is very worrying. It is extremely unusual for an apparently healthy male osprey to vanish at this stage of the breeding season.
"The most likely explanation is that he has been shot, especially given that 08 hunts in the same area as the birds that disappeared last spring."
Reference: http://www.guardian.co.uk/environment/2011/may/19/missing-osprey